taxes@laclabichecounty.com
T: 780-623-1747
Land Title Transfer Delays
Alberta Land Titles is currently experiencing delays in the processing of land title transfers and name & address updates. If you have purchased a property and have not received your assessment and tax notice by early June, contact (780) 623-1747 or email taxes@laclabichecounty.com
If you did not receive your tax notice after purchasing a new home due to processing delays at Alberta Land Titles, and were charged a penalty on July 1, you can apply for the penalty reimbursement through the link below at Alberta Government - Property tax late penalty reimbursement.

https://www.alberta.ca/property-tax-late-penalty-reimbursement.aspx
NOTE: Non-receipt of your assessment and property tax notice does not exempt you from paying property taxes by the due date or late payment penalties. Contact our office before the June 30 due date.
Notice of Electronic Tax and Assessment Communications Bylaw 22-014
Lac La Biche County Council has adopted the Electronic Tax and Assessment Communications Bylaw, which allows the County to send tax and assessment notices, documents and information electronically.
The bylaw provides an option for taxpayers to go paperless and receive their property assessment and tax notice, statements, documents and other information by electronic means. Electronic delivery of these notices and information will require the taxpayer to opt-in; taxpayers who wish to receive these notices and information through regular mail may continue doing so.
Please scroll to the bottom of this page for the form to opt-in to receive tax and assessment communications electronically.
Questions about the bylaw may be directed to the Finance Supervisor, Sandra Charles at (780) 623-6771 or email: taxes@laclabichecounty.com, during regular business hours.
About the Budget
Each year Lac La Biche County Council approves the operating budget needed to support Lac La Biche County services.
Council sets the annual Mill Rate, also known as the Municipal tax rate, during the first two weeks of May. The mill rate refers to the amount of tax payable per $1,000 of a property's assessed value. Property taxes are generated when the municipal tax rates and provincial school and senior requisitions are multiplied by the assessed value of your property.
The assessment and tax notices are mailed in mid-May and are due June 30.
Municipalities are required by legislation to bill and collect education and senior's lodges taxes on behalf of the Province of Alberta. The province sets a budget and establishes these tax rates which are outside the County's control.
All residential and non-residential property owners pay education and senior's lodge taxes, including people without children, and senior citizens.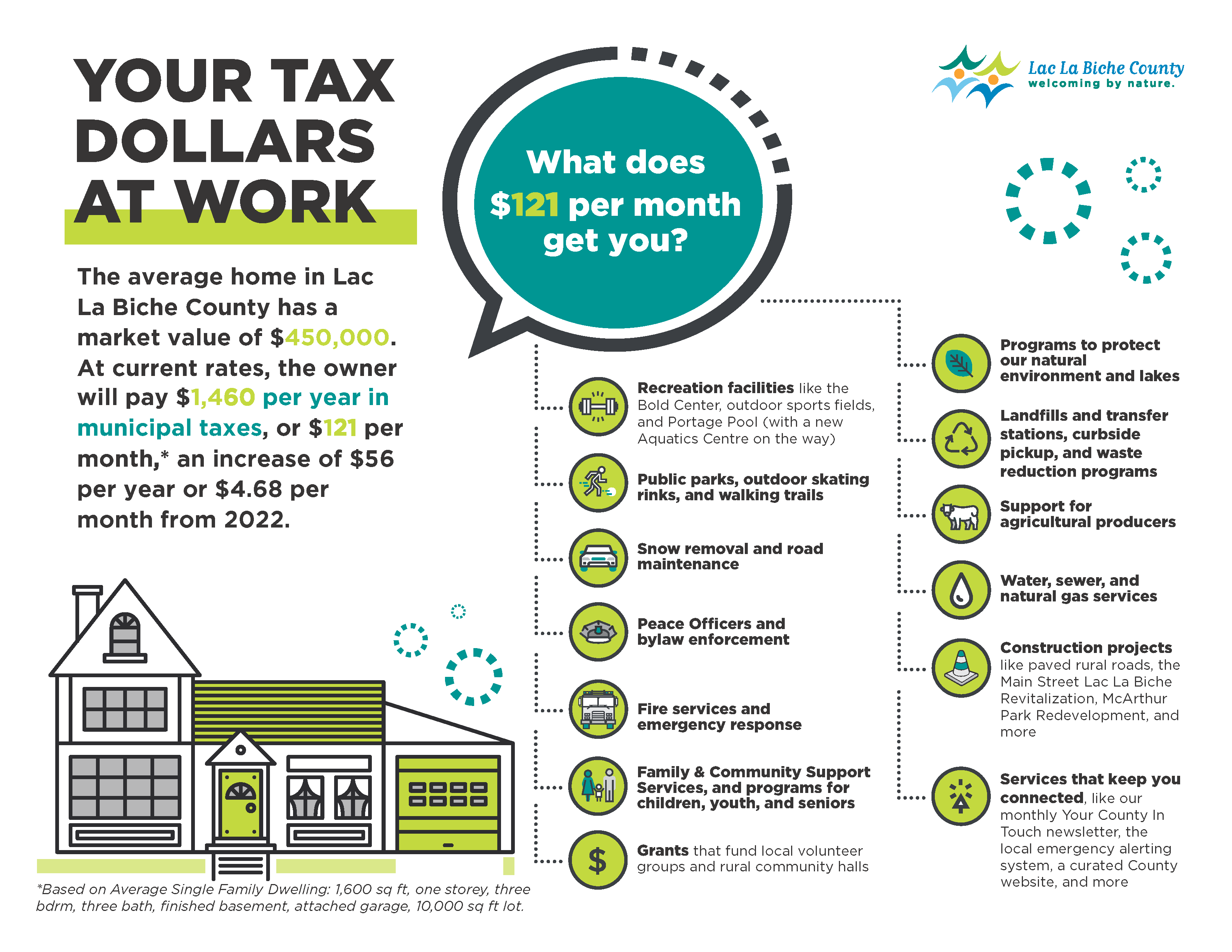 Address changes
Alberta - Change of Address: Property Owners who have moved need to notify the province with your new address. Once you have completed the form below please send it to the address noted on the form.

County - Change of Address: For tax notices and all other change requests send Lac La Biche County an email with your name, old address, new address, and any other changed information.

Please click on the menu items below to learn more: