The Revitalization Project covers Main Street Lac La Biche from 100 Street to 103 Street and includes replacing underground utility lines and beautifying Main Street.
The beautification aspects, like mature trees, benches, landscape beds, updated street lighting, specialized signage, and stamped pavement, are intended to support businesses along Main Street, creating an attractive atmosphere for residents and tourists. The underground utility lines, which make up the bulk of the project's cost, will modernize ageing infrastructure, and serve nearby business owners and residents for many years to come.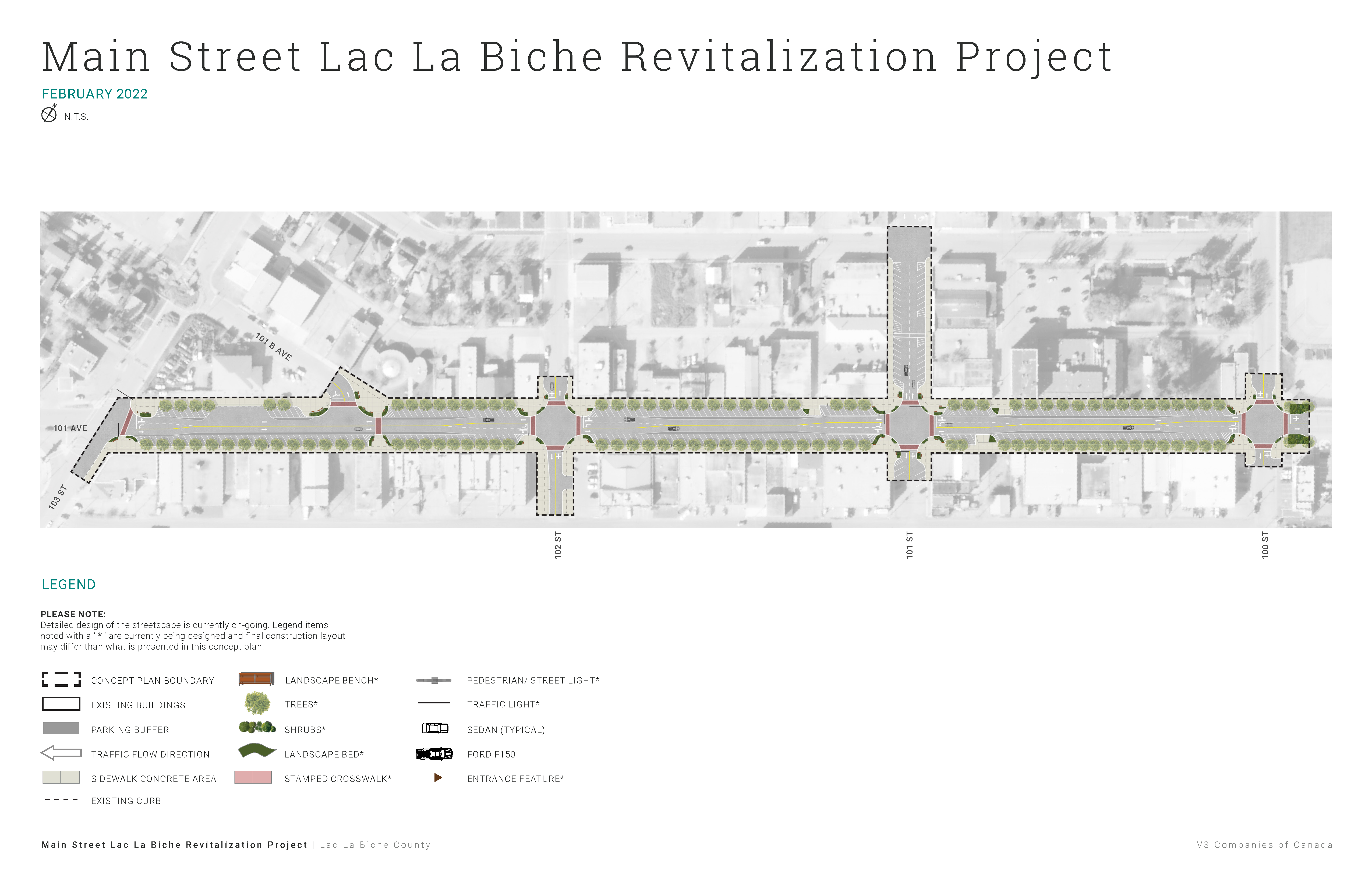 To view a larger version of the above design, click here.
While detailed design is currently completed, key changes include:
Keeping the sidewalk width effectively the same, while increasing it at intersections to improve pedestrian safety;
removal of a proposed cross walk; and
retaining the 60 degree parking angles.
The concept plan also includes lefthand turn lanes at each intersection to allow for the smooth flow of traffic. Exact locations of streetscape elements like waste receptacles, benches, landscape beds, stamped pavement etc. are currently being fine tuned, and subject to change. Stay tuned for more updates as the detailed design unfolds and we get closer to the 2022 construction season.
General Project Information (Updated June 20, 2022)
Lac La Biche County is delaying the Main Street Lac La Biche Revitalization Project to summer 2023.
Due to rapid changes in the economy and construction industry, bids for the project (which was originally scheduled for summer 2022) came in higher than anticipated. As a result, the County is considering other financing and tendering options.
Next steps for the project will be shared with business owners and residents as soon as more details are available. However, work on Richard Devonian Park along Main Street (for which the County received a $475,000 federal grant) will start this year.
Please check back with this webpage for updates as the project moves forward, or complete the Contact Form below to have updates sent directly to you. If you have any questions about this work, please feel free to contact our Engineering Services Department.
Engineering Services:
Ali Memon, Manager
780-404-6869
SEND EMAIL