Construction began on the Main Street Revitalization project in May 2023.

The Revitalization Project covers Main Street Lac La Biche from 100 Street to 103 Street and includes replacing underground utility lines and beautifying Main Street. The revitalization aspects, like benches, landscape beds, new trees, updated street lighting, specialized signage, and stamped pavement, are intended to support businesses along Main Street, creating an attractive atmosphere for residents and tourists. The underground utility lines will modernize aging infrastructure, and serve nearby business owners and residents for many years to come.

What does this mean for me? This means that you should expect disruptions along Main Street over the next three years. But don't fret - we are working closely with our construction crew, consultants, business owners in the area, and the public to make sure we give as much notice as possible to road closures, detours, and other traffic accommodations. You'll still be able to access all of your favourite stores and amenities.

What does this mean for businesses in the area? Businesses along Main Street will experience some road closures in their area. This is a significant streetscape project that will involve the removal of all existing surface material, resulting in phased road closures and detours throughout the project area. During construction, we will be working closely with businesses to help minimize impacts as much as possible.
Check out our business and amenity directory to learn how to access and support Main Street businesses during the 2023 construction season.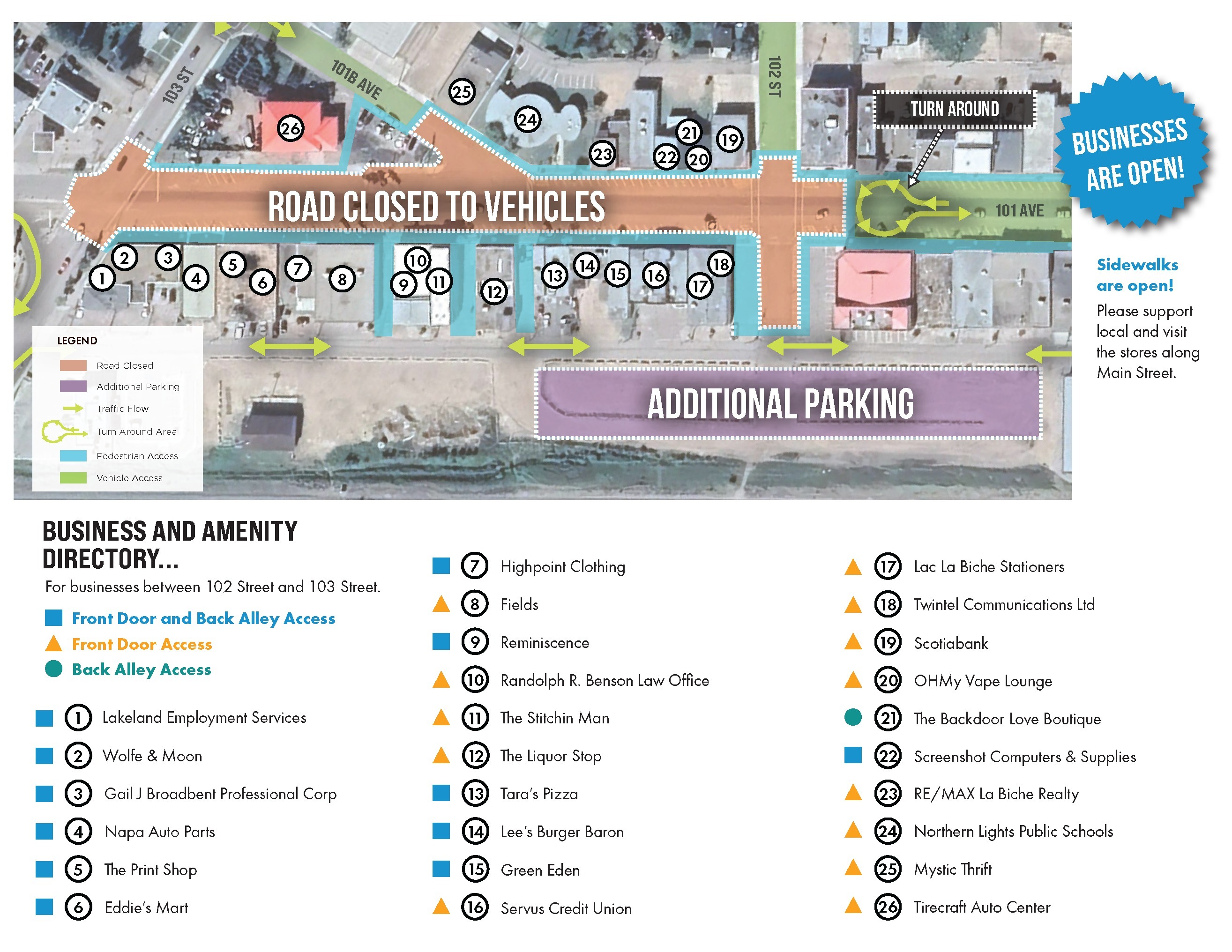 2023 Traffic Accommodations
Find out how to get around Lac La Biche during the summer of 2023 by taking a look at our traffic accommodation plan. Pedestrian access to businesses will be maintained, and additional parking is provided for near the construction site.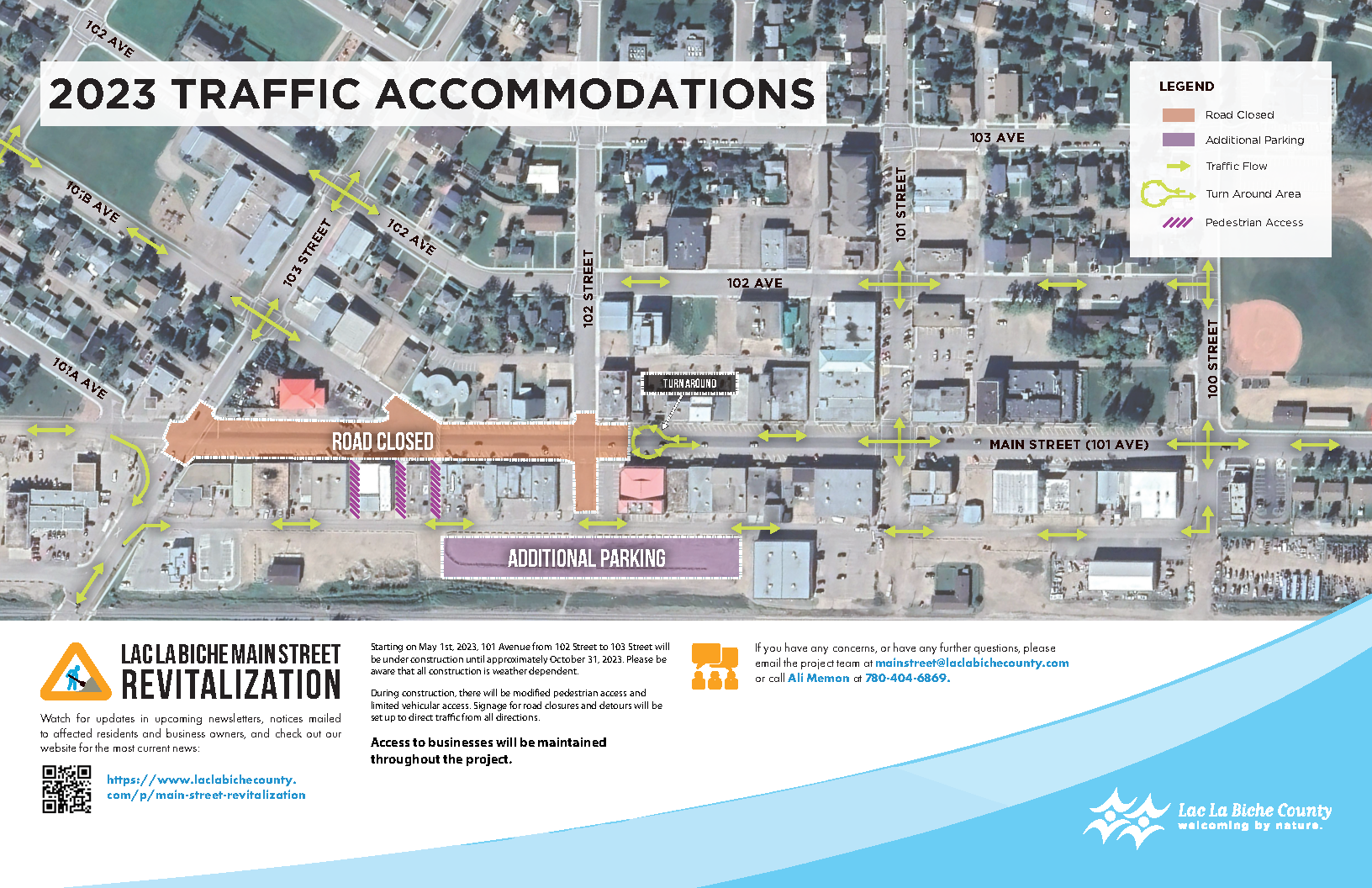 Click here to view/download a larger copy of the plan above.
What to Look Forward To…
There are many exciting changes coming to Main Street, as well as the retention of some key aspects you already enjoy about our downtown. This includes keeping the sidewalk width effectively the same, while increasing it at intersections to improve pedestrian safety. We will also be retaining the 60-degree parking angles. The introduction of left-hand turn lanes at each intersection will allow for the smooth flow of traffic and improves safety. The streetscaping improvements like benches and pedestrian scale lighting help to make a safe and more comfortable environment to enjoy the Main Street. This encourages users to linger, and in turn, creates a vibrant core where people can gather, celebrate, and enjoy what the shops and amenities have to offer.
2023 Progress Report: Main Street between 103 Street and 102 Street (Updated Sept. 25, 2023)
Completed Work
Setup of traffic control and construction fencing.
Removal of existing light and traffic poles.
Removal and disposal of trees.
Removal of the existing surface structures including asphalt and sidewalks.
Rough road core between 103 Street and 102nd Street.
Water main replacement including commissioning and the removal of temporary water services. Installation of new fire hydrants.
Sanitary sewer main replacement.
Replacement of all water and sanitary sewer services.
Installation of upgraded storm sewer network to improve drainage.
Lower portion of the road base work has been completed.
Installation of soil cell structures for improved tree health.
Installation of underground portions of electrical work is complete. This includes conduit and concrete bases for the new decorative lighting features and street lights.
Installation of the majority of concrete curbs between 103rd Street and 102nd Street.
Tasks to be Completed
Installation of new concrete curbs and sidewalks is ongoing.
Construction of decorative concrete planter boxes is underway.
Installation of new wayfinding and traffic signs.
Above ground electrical connections including light poles and decorative lighting features.
Landscaping work including planting of trees and plants, and placement of mulch planter beds.
Streetscape element installations such as benches, bike racks, waste receptacles, moose and bear prints.
Asphalt paving and line painting.
Installation of traffic signals on the 103rd Street Intersection.
Information from Drop-In Sessions
We're holding drop-in sessions for business owners along Main Street Lac La Biche, although everyone is welcome to attend.
Check out our community calendar for more information on the next session.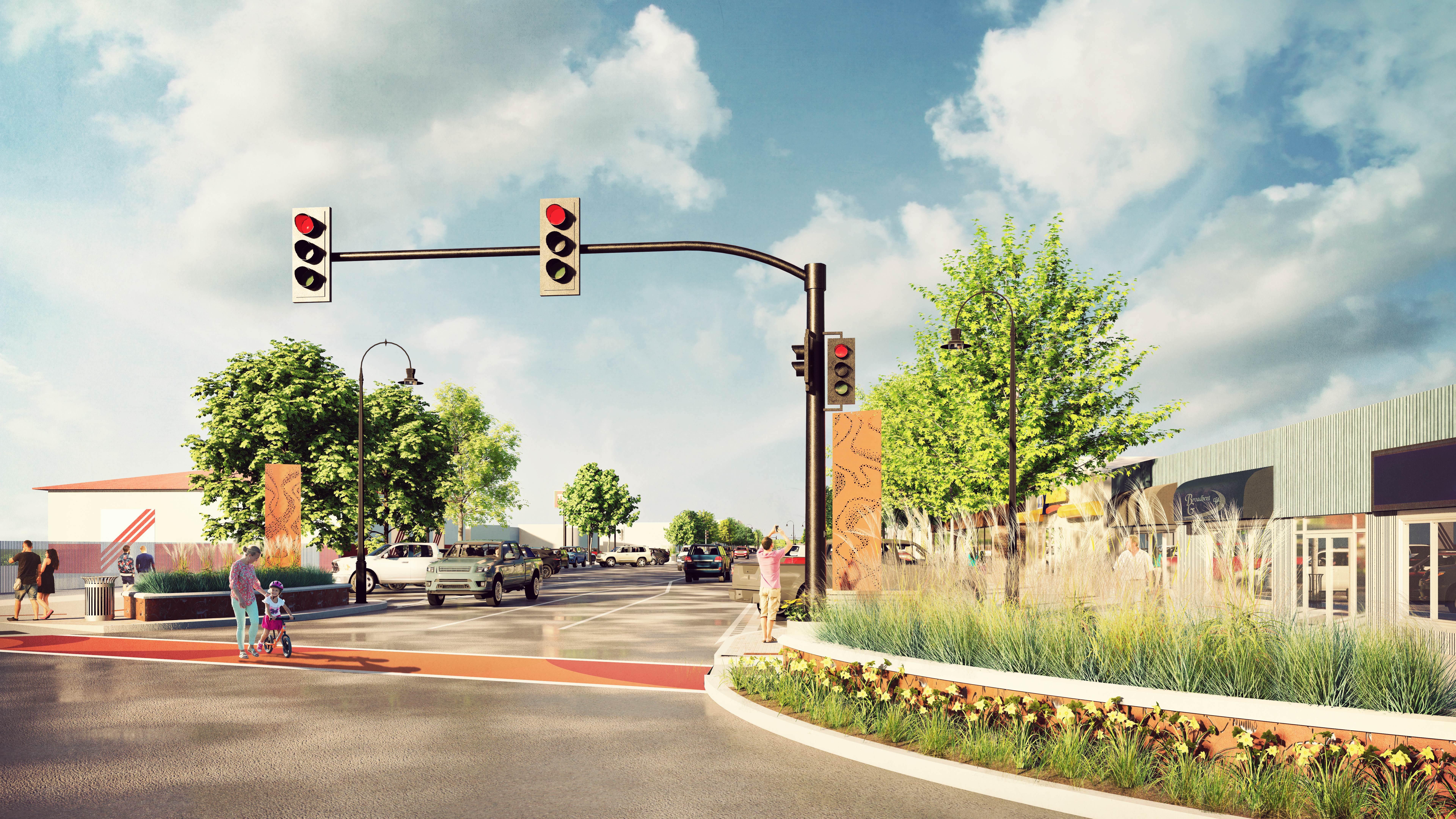 Questions for Us?
If you have any concerns, or have any further questions, please email the project team at: mainstreet@laclabichecounty.com. You can also call County staff directly: or call

Ali Memon, Manager of Engineering Services
Cell: 780-404-6869
Ron Fraser, Associate CAO of Infrastructure Services
Cell: 780-623-6790
To ensure we have the most up-to-date contact information so that we can relay important updates regarding the Main Street Lac La Biche Revitalization project, please fill out the following form and hit submit. None of the information collected will be distributed to external parties.